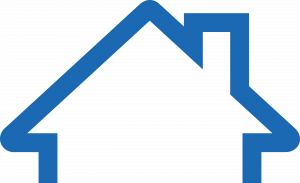 News & Views
HACP publishes its newsletter, News & Views, twice a year. News & Views contains updates on HACP's development plans and activities; information about programs and services; and news about HACP residents.
From the latest issue (Summer 2018):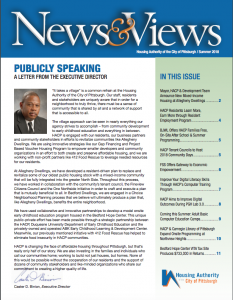 ---
Publicly Speaking
A Letter from the Executive Director
"It takes a village" is common refrain at the Housing Authority of the City of Pittsburgh. Our staff, residents and stakeholders are uniquely aware that in order for a neighborhood to truly thrive, there must be a sense of community that is shared by all and a network of support that is accessible to all.
The village approach can be seen in nearly everything our agency strives to accomplish – from community development to early childhood education and everything in between. HACP is engaged with our residents, our business partners and community stakeholders in efforts to revitalize communities like Allegheny Dwellings. We are using innovative strategies like our Gap Financing and Project Based Voucher Housing Program to empower smaller developers and community organizations in an effort to both create and preserve affordable housing; and we are working with non-profit partners like 412 Food Rescue to leverage needed resources for our residents.
At Allegheny Dwellings, we have developed a resident-driven plan to replace and revitalize some of our oldest public housing stock with a mixed-income community that will be fully integrated into the greater North Side. Throughout this process, we have worked in collaboration with the community's tenant council, the Fineview Citizens Council and the One Northside initiative in order to craft and execute a plan that is mutually beneficial to all. In Bedford Dwellings, we are engaged in a Choice Neighborhood Planning process that we believe will ultimately produce a plan that, like Allegheny Dwellings, benefits the entire neighborhood.
We have used collaborative and innovative partnerships to develop a model onsite early childhood education program housed in the Bedford Hope Center. This unique public-private effort has been made possible through a strategic partnership between the HACP, Duquesne University Department of Early Childhood Education and the privately-owned and operated ABK Early Childhood Learning & Development Center. Meanwhile, our previously mentioned initiative with 412 Food Rescue has helped to eliminate food insecurity in HACP communities.
HACP is changing the face of affordable housing throughout Pittsburgh, but that's really only half of our story. We are also investing in the families and individuals who call our communities home; working to build not just houses, but homes. None of this would be possible without the cooperation of our residents and the support of dozens of community stakeholders and like-minded organizations who share our commitment to creating a higher quality of life.

Caster D. Binion
Executive Director