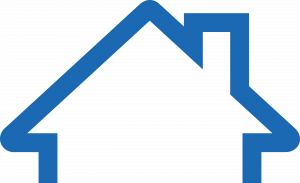 News & Views
HACP publishes its newsletter, News & Views, twice a year. News & Views contains updates on HACP's development plans and activities; information about programs and services; and news about HACP residents.
From the latest issue (Winter 2018):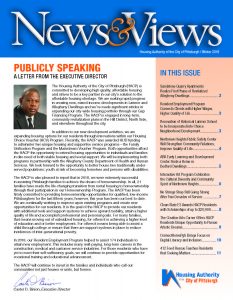 ---
Publicly Speaking
A Letter from the Executive Director
The Housing Authority of the City of Pittsburgh (HACP) is committed to developing high quality, affordable housing and strives to be a key partner in our city's solution to the affordable housing shortage. We are making rapid progress in creating new, mixed-income developments in Larimer and Allegheny Dwellings and we've made significant strides in expanding our city-wide housing portfolio through our Gap Financing Program. The HACP is engaged in long-term, community revitalization plans in the Hill District, North Side, and elsewhere throughout the city.
In addition to our new development activities, we are expanding housing options for our residents through innovations within our Housing Choice Voucher (HCV) Program. Recently, the HACP was awarded HUD funding to administer two unique housing and supportive service programs – the Family Unification Program and the Mainstream Voucher Program. Both opportunities afford the HACP the opportunity to extend housing opportunities to individuals and families in dire need of both stable housing and social support. We will be implementing both programs in partnership with the Allegheny County Department of Health and Human Services. We look forward to the opportunity to better house two traditionally under-served populations: youth at risk of becoming homeless and persons with disabilities.
The HACP is also pleased to report that in 2018, we were extremely successful in assisting Pittsburgh families to achieve the dream of homeownership. In all, 21 families have made the life-changing transition from rental housing to homeownership through their participation in our Homeownership Program. The HACP has been firmly committed to providing homeownership opportunities for qualified, low-income Pittsburghers for the last fifteen years; however, this year has been our best to date.
We are continually working to improve upon existing programs and create new opportunities for our residents. It is the goal of the HACP to provide our residents with additional tools and support systems to achieve upward mobility, attain a higher quality of life and accomplish professional and personal goals. For many families, that means moving out of subsidized housing, for others it is achieving a higher level of education and or better employment. For others it means being able to assist a child through college or ensure that there are support systems in place to reduce incidences of inter-generational poverty.
In 2018, our Resident Employment Program helped to assist 174 individuals to attain new employment. This includes many well-paying, long-term careers in the construction, medical and customer service industries. For those residents who have yet to meet their self-sufficiency goals, we will continue to provide opportunities for vocational training and educational advancement.
The HACP will continue to invest in the families and individuals who call our communities not just houses or units, but homes.

Caster D. Binion
Executive Director