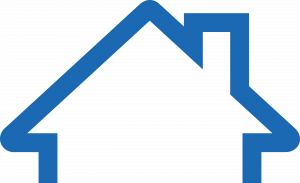 News & Views
HACP publishes its newsletter, News & Views, twice a year. News & Views contains updates on HACP's development plans and activities; information about programs and services; and news about HACP residents.
From the latest issue (Winter 2020):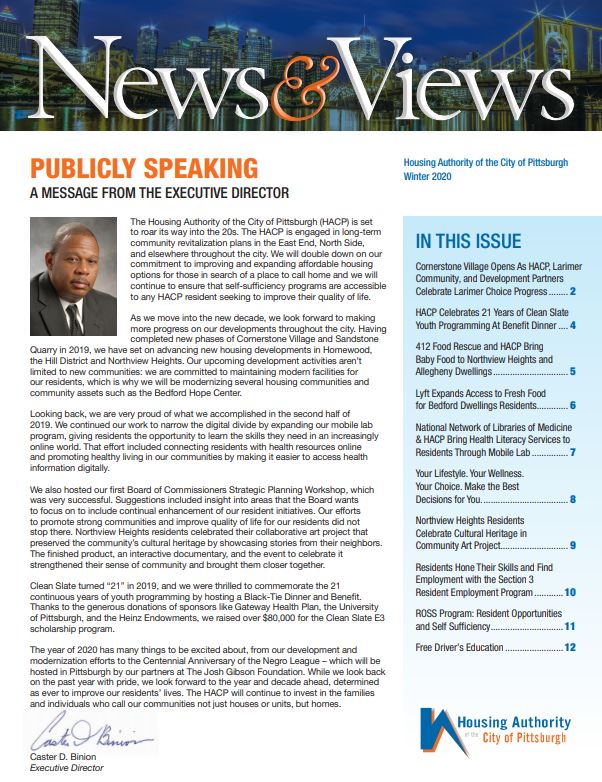 ---
Publicly Speaking
A Letter from the Executive Director
The Housing Authority of the City of Pittsburgh (HACP) is set to roar its way into the 20s. The HACP is engaged in long-term community revitalization plans in the East End, North Side, and elsewhere throughout the city. We will double down on our commitment to improving and expanding affordable housing options for those in search of a place to call home and we will continue to ensure that self-sufficiency programs are accessible to any HACP resident seeking to improve their quality of life.
As we move into the new decade, we look forward to making more progress on our developments throughout the city. Having completed new phases of Cornerstone Village and Sandstone Quarry in 2019, we have set on advancing new housing developments in Homewood, the Hill District and Northview Heights. Our upcoming development activities aren't limited to new communities: we are committed to maintaining modern facilities for our residents, which is why we will be modernizing several housing communities and community assets such as the Bedford Hope Center.
Looking back, we are very proud of what we accomplished in the second half of 2019. We continued our work to narrow the digital divide by expanding our mobile lab program, giving residents the opportunity to learn the skills they need in an increasingly online world. That effort included connecting residents with health resources online and promoting healthy living in our communities by making it easier to access health information digitally.
We also hosted our first Board of Commissioners Strategic Planning Workshop, which was very successful. Suggestions included insight into areas that the Board wants to focus on to include continual enhancement of our resident initiatives. Our efforts to promote strong communities and improve quality of life for our residents did not stop there. Northview Heights residents celebrated their collaborative art project that preserved the community's cultural heritage by showcasing stories from their neighbors. The finished product, an interactive documentary, and the event to celebrate it strengthened their sense of community and brought them closer together.
Clean Slate turned "21" in 2019, and we were thrilled to commemorate the 21 continuous years of youth programming by hosting a Black-Tie Dinner and Benefit. Thanks to the generous donations of sponsors like Gateway Health Plan, the University of Pittsburgh, and the Heinz Endowments, we raised over $80,000 for the Clean Slate E3 scholarship program.
The year of 2020 has many things to be excited about, from our development and modernization efforts to the Centennial Anniversary of the Negro League – which will be hosted in Pittsburgh by our partners at The Josh Gibson Foundation. While we look back on the past year with pride, we look forward to the year and decade ahead, determined as ever to improve our residents' lives. The HACP will continue to invest in the families and individuals who call our communities not just houses or units, but homes.
Caster D. Binion
Executive Director