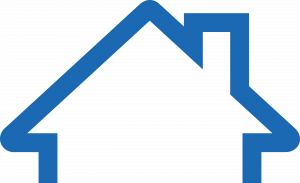 News & Views
HACP publishes its newsletter, News & Views, twice a year. News & Views contains updates on HACP's development plans and activities; information about programs and services; and news about HACP residents.
From the latest issue (Summer 2019):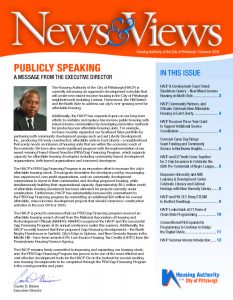 ---
Publicly Speaking
A Letter from the Executive Director
The Housing Authority of the City of Pittsburgh (HACP) is currently advancing an aggressive development schedule that will create new mixed-income housing in the City of Pittsburgh neighborhoods including Larimer, Homewood, the Hill District and the North Side to address our city's ever-growing need for affordable housing.
Additionally, the HACP has expanded upon on our long-term efforts to revitalize and replace low-income public housing with mixed-income communities by developing innovative methods for producing new affordable housing units. For example, we have recently expanded our Scattered Sites portfolio by partnering with community development groups such as East Liberty Development, Inc., producing 20 newly constructed, affordable units in East Liberty – a neighborhood that sorely needs an infusion of housing units that are within the economic reach of the residents. We have also made significant progress with the implementation of our award-winning Project-Based Voucher (PBV)/Gap Financing Program, which expands capacity for affordable housing developers including community-based development organizations, faith-based organizations and seasoned developers.
The HACP's PBV/Gap Financing Program is an innovative effort to increase the city's affordable housing stock. The program diversifies the developer pool by encouraging less experienced, non-profit organizations, such as community development corporations to invest in their communities and develop proposed housing, while simultaneously building their organizational capacity. Approximately $9.5 million worth of affordable housing investment has been allocated for projects currently under construction. Furthermore, HACP has substantially increased its commitment to the PBV/Gap Financing program by committing an additional $20 million for several affordable, mixed-income development projects that should commence construction activities in the year 2019 or 2020.
The HACP is proud to announce that our PBV/Gap Financing program received an affordable housing award of merit from the National Association of Housing and Redevelopment Officials (NAHRO). NAHRO recognized the HACP and the successful Gap Financing Program at its annual conference earlier this summer. Additionally, the HACP recently learned that three proposed Gap Financing developments – the North Negley Residences in Garfield, City's Edge in Uptown, and New Grenada Square in the Middle Hill – have been awarded 9% Low-Income Housing Tax Credits (LIHTC) from the Pennsylvania Housing Finance Agency.
The HACP remains firmly committed to improving and expanding our housing stock; and, the PBV/Gap Financing Program has proven to be one of the most efficient and cost effective development tools for the HACP. Be on the lookout for several exciting new housing developments to be completed through the PBV/Gap Financing Program in the coming months and years.
Caster D. Binion
Executive Director